Jay-Z - The Blueprint 2 : The Gift & The Curse (Album)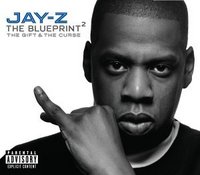 Tracklist
Trackliste de The Blueprint 2 : The Gift & The Curse : découvrir cet album, titre par titre en vidéos
Voir les titres les plus populaires
1 - Dream - Faith Evans, Jay-Z, The Notorious B.I.G. 2 - Hovi Baby 3 - Watcher 2 - Dr. Dre, Jay-Z, Rakim, Truth Hurts 4 - '03 Bonnie & Clyde - Jay-Z, Beyoncé 5 - Excuse Me Miss 6 - What They Gonna Do - Jay-Z, Sean Paul 7 - All Around the World - Jay-Z, LaToiya Williams 8 - Poppin' Tags - Big Boi, Jay-Z, Killer Mike, Twista 9 - F**k All Nite 10 - Bounce 11 - I Did It My Way 12 - Diamond Is Forever 13 - Guns & Roses - Jay-Z, Lenny Kravitz 14 - U Don't Know [Remix] - Jay-Z, , M.O.P. 15 - Meet the Parents 16 - Some How Some Way - Jay-Z, Scarface, Beanie Sigel 17 - Some People Hate 18 - Blueprint² 19 - N****a Please - Jay-Z, Young Chris 20 - 2 Many Hoes 21 - As One - Freeway, Jay-Z, Memphis Bleek, , Rell, , Young Guns 22 - Ballad for the Fallen Soldier 23 - Show You How [*] 24 - B*****s & Sisters [*] 25 - What They Gonna Do, Pt. 2 [*]
Commentaires (Facebook)
Derniers commentaires
la suite du chef d'œuvre hits bonny and Clyde(feat sa wife),exscuse me miss et the bounce(prod timbo)

christmax

-

Mer 04 Fev 2009

j'apprecie l'ambiance de cet album mm s'il n'est pas la suite exact de the blueprint cet album à son charme à lui et c'est super( mension spéciale à excuse me miss, the watcher II, diamond are forever, 03 bonnie & clyde, meet the parents


Parfois, il arrive que je grave des albums puis pour x raisons, je les laisse prendre la poussière, sachant qu'à un moment, je prendrai un temps pour les (ré-)écouter, les (re-)découvrir ou les ignorer tout court. Ce qui reste le cas pour ce Blueprint² - Gift & Curse (j'oublie les articles)...
Mieux vaut tard que jamais et là, je reste sur le Q, je ne sais toujours pas à ressemble The Blueprint mais ce double album-là me sidère... Ou alors, je n'écoute pas assez de HH... Par contre, le Popping Tags ne me dit rien qui vaille... Voilà ce qui me console de la version censurée de Hard Knock Life HT à la hâte, sans avoir vu le sticker Parental Advisory ou celle toute nouvelle collaboration avec Coldplay - non ce n'est pas possible... :no:
Je rajoute '03 Bonnie & Clyde parce que ... Beyoncé, quoi !!!


Classez-moi dans la variète - oui, je C, je me répète, etc.

Hova The King

-

Dim 21 Sep 2008


Je suis d'accord The Blueprint 2.1 est meilleur.
Pour U Don't Know, encore une fois, je trouve que le remix se fait tuer par l'original : J'ai eu The Blueprint avant The Blueprint 2, et en étant habitué à la première version de U Don't Know qui déchire tout, j'ai un peu de mal à apprécier le remix qui est pourtant loin d'être mauvais...

J'espère juste que The Blueprint III sera à la hauteur des attentes... :rolleyes:

Peace
Tchu Boy !
Jay-Z Albums
Rap : Nouveaux albums